A few restaurant tips below – these are just some of our favourites. There are lots and lots of restaurants in the area, most of them good, and we cannot list them all.
Da Santina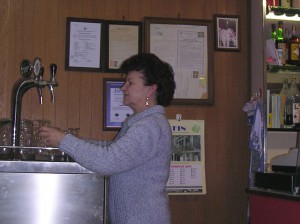 You have to try Santina's, our local trattoria. Remember to order your table in advance (unless you only want pizza – no reservation needed!)
Santina has a terrace on the back, with a great panoramic view of the valley and the mountains. Try it!
Read more about Santina's on the Services page.
Circolo dei Forestieri
Placed in a prominent position in Bagni di Lucca Villa, the old dignified building of the "Foreigners Club" now contains one of the best restaurants in the area. For lunch time, they serve a "pranzo di lavoro" ("worker's lunch") of high quality at a very affordable price. In the evening, they have a good a la carte menu. (Closed Monday evenings and all day Tuesdays.)
Da Mamo
In the Villa part of Bagni di Lucca, several good restaurants have closed down lately. That makes it easy for us to point out the favourite: Da Mamo. Good food, even seafood. Not the cheapest, but well worth the price.
Villa Aurora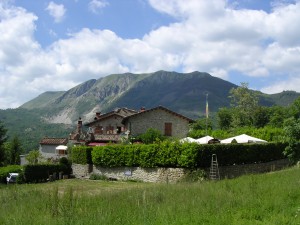 In the middle of nowhere, in the forest a few kilometers up a side road from Fabbriche di Casabasciana, lies Villa Aurora – a very good restaurant, serving high quality local dishes with a twist. Not only is the food homemade – a great deal of the ingredients are produced on the premises or harvested in the forest surrounding the restaurant.
Bar Trattoria Topo Gigio
An informal and reasonable lunch restaurant and bar in the Fabbriche di Casabasciana area somewhat east of Bagni di Lucca. Very popular lunch restaurant among the locals although not many foreign tourists have discovered it. Absolutely good value for money.
Da Marina Bar
Da Marina Bar, which is actually a most informal trattoria, lies in the village of Casoli. We are used to being served excellent homemade food at very affordable prices here. This year, our visit was a little disappointing – the quality of the food was not like we were used to. Not bad, but not quite as good as before. We hope they just had a bad day, and that it is not a general tendency. Your report is appreciated…
Il Biribisso
Il Biribisso lies in the hamlet of Granaiola, on the way towards Monti di Villa. This restaurant has recently been upgraded from a simple and inexpensive, but good trattoria to a somewhat more elevated restaurant – both in terms of interior and menu (…and prices).
I Macelli
In Borgo a Mozzano, this excellent restaurant is found. A slow meal on the outside terrace is just a fantastic experience! Compared to the quality of the food and service, it is very reasonably priced.